General information
Head of Programme Committee

Prof. Dr. Donald Bruce Dingwell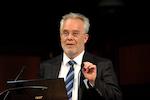 Department of Earth and Environmental Sciences
Section for Mineralogy, Petrology and Geochemistry
Theresienstr. 41
80333 München
Venue
Ludwig-Maximilians-Universität München
Große Aula (Raum E120)
Geschwister-Scholl-Platz 1, 80539 München
Conference duration
Monday, 09th October 2023 until Wednesday, 11th October 2023 (see programme).
Organization
Congress Center LMU München
Geschwister-Scholl-Platz 1
80539 München
Tel.: 089 2180 72255
Fax: 089 2180 72259
congresscenter@lmu.de
Homepage: www.lmu.de/congresscenter
Conference fee
34th Annual Conference of Academia Europaea (AE)
The conference fee includes the coffee breaks and the reception. The conference dinner will be charged separately upon registration.
Payment options
MasterCard, VISA, PayPal.

Registration confirmation indicating the invoice amount will be sent with the registration.
Cancellation
Cancellations must be made in writing via email to congresscenter@lmu.de no later than Monday, 02nd October 2023. A handling fee of 10,00€ will be charged.
In case of cancellation after 02nd October 2023 or non-attendance, the full participation fee will be due, a refund is not possible.
Data protection
The Congress Center of the LMU Munich processes your data only for the purpose of preparing and holding this and future congresses. Your data will not be passed on to third parties. You can object to the use of your data at any time with effect for the future. To do so, please send an e-mail to congresscenter@lmu.de.